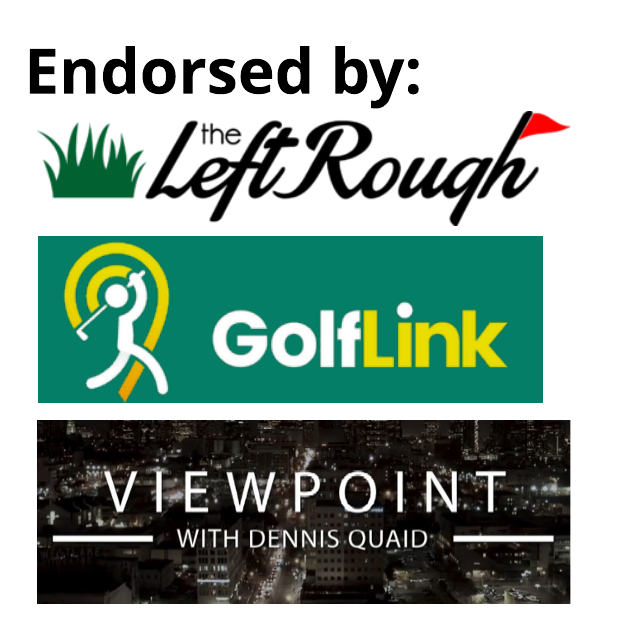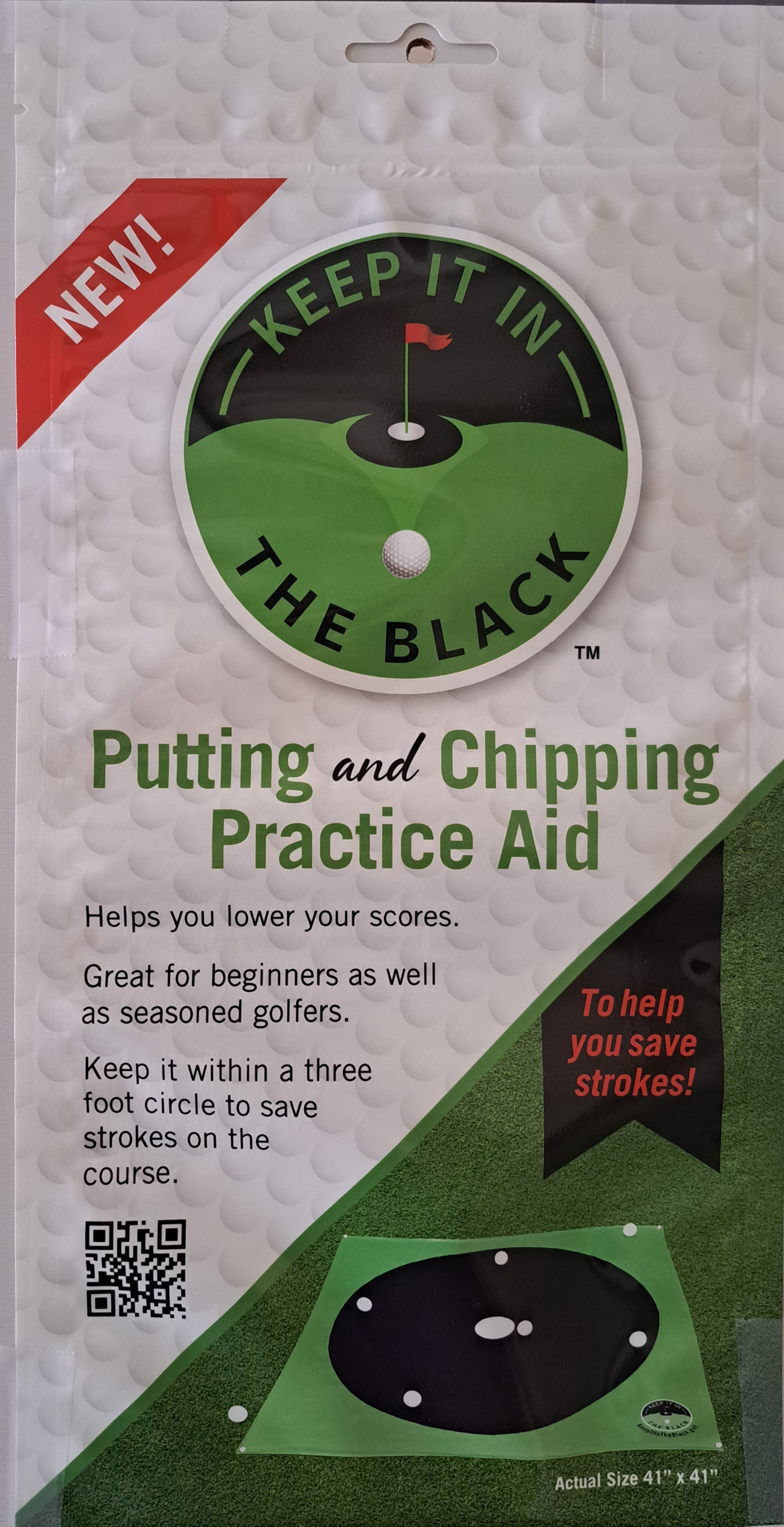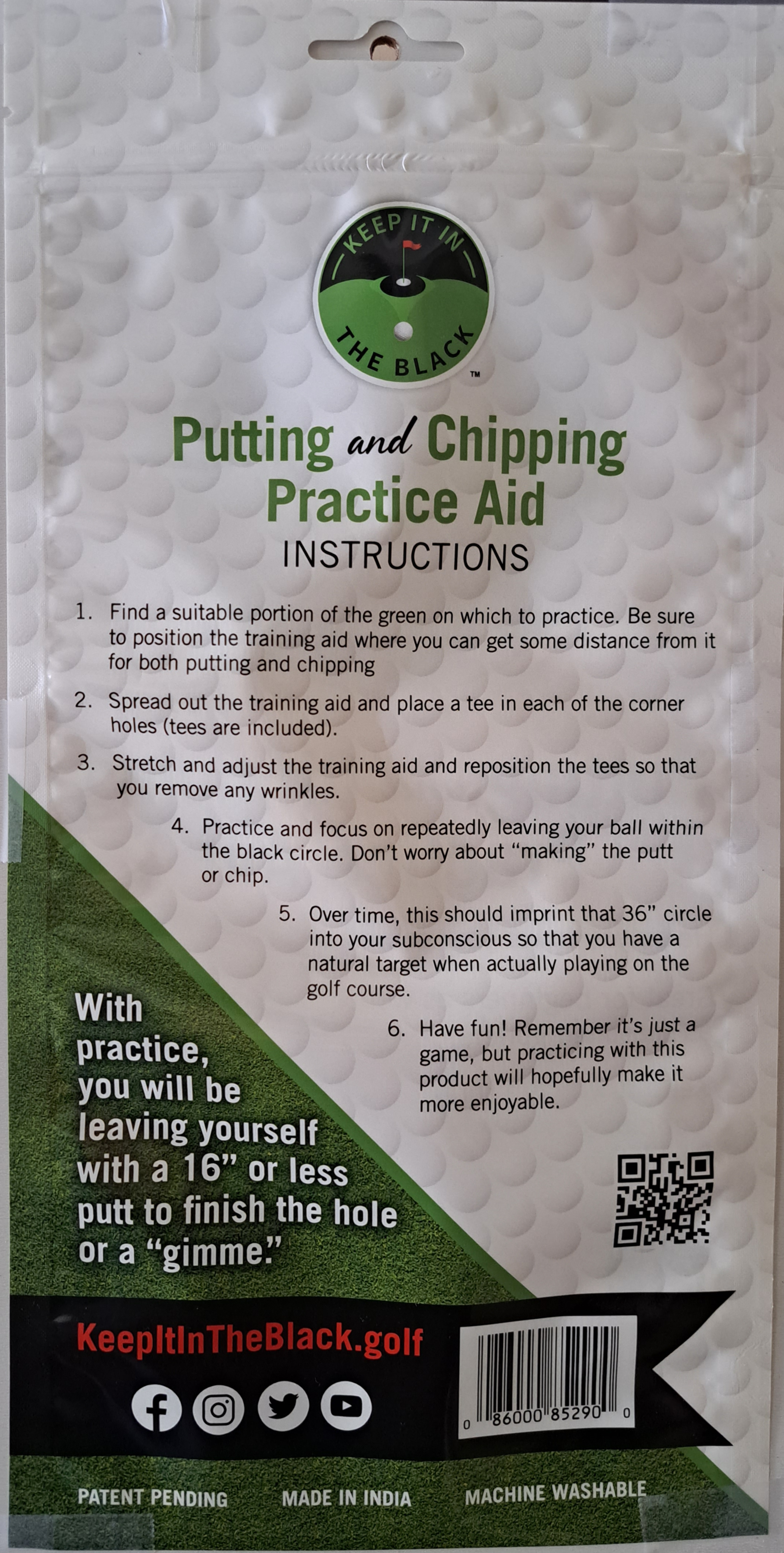 A new and revolutionary patented golf training aid to improve your putting and chipping and reduce your number of 3 putts!
Keep It In The Black is a new and revolutionary patented golf training aid for putting and chipping that helps beginners, as well as seasoned golfers, improve their scores by reducing their number of 3 putts!
Features: 

Easy to set up.
Great for beginners as well as seasoned golfers.
Doesn't affect the roll of the ball.
Keep it within the 3-foot circle to save strokes and lower your hole score.
Over time the circle will become imprinted into your subconscious to provide a natural target on the course.
With practice, you'll leave yourself with a 16' or less putt to finish the hole.
Find a suitable portion of the green on which to practice. Be sure to position the training aid where you can get some distance from it for both putting and chipping.

Spread out the training aid and place a tee in each of the corner holes (tees are included).

Stretch and adjust the training aid and reposition the tees so that you remove any wrinkles.

Practice and focus on repeatedly leaving your ball within the black circle. Don't worry about "making" the putt or chip.

Over time, this should imprint that 36" circle into your subconscious so that you have a natural target when actually playing on the golf course.

Have fun! Remember it's just a game, but practicing with this product will hopefully make it more enjoyable.
Imagination brought to life
Absolutley love this product! For our golf team to have a defined visual proximaty golf a hole and flat surface that does not affect the roll of the ball has been a game changer.
Improving my game with Keep It In The Black
I have been using Keep It In The Black for my chipping and putting practice. I use the target two ways for chipping: trying to stop my ball close to the target and trying to hit the target on the fly. In the past I usually practiced putting to a cup but with this tool I can better judge both my line and my touch. My short game is improving thanks to KIITB.
Great Training Tool
Love the idea behind this and it's keep it simple design. It works great for me at the practice facility, at home in the backyard, is helping improve my short game tremendously. Great idea and product!!
Sharping your game while having some fun!
We recently set up the Keep It in The Black in the back yard and had a four-player competition and keeping score for bragging rights - great for a family and friends as an activity while sharpening your chipping and putting skills! Very quick set up.
Excellent practice tool
I've used the mat a dozen times and love it. It folds nicely in my bag and serves as a great target when I go the practice facility. Highly recommended it to anyone trying to improve their short game!